A short autobiography
1939 to 1958: the early years - the beginnings of my interest in languages
I was born in January, 1939, in a small village near Horsham in West Sussex, England. Apart from two years in Dorset around the end of World War II (the V1s were making Sussex a little uncomfortable), I was brought up in West Sussex, attending first the local village school at Billingshurst and then, from 1951 till 1958, Collyer's Grammar School in Horsham.
When my father returned from the Netherlands, where he had been stationed towards the end of the war, he brought back, among other things. a multilingual dictionary; the dictionary fascinated me. Then I discovered my mother's French text books from her school days (I still have them!), and the notion that languages had structure called 'grammar' excited my young mind. Thus when sometime around the age of 9 or 10, I discovered among my grandparents' books an English dictionary with excellent etymologies, I had become well and truly hooked on languages and linguistics; and this obsession remains with me to the present day.
At Collyer's I began learning Latin at the age of 11, French from the next year and Ancient Greek from the age of 14. Besides this I tried to teach myself as many different languages as I could find in libraries and in rummaging in second hand bookshops.
1958 to 1968: University, marriage and a family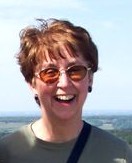 Caroline
In 1958 I went to the University of Southampton to read Latin and Greek and graduated in the summer of 1961 with B.A. Joint Honours in Latin & Greek. Earlier in 1961, on Shrove Tuesday, I had been received into the Catholic Church. I have remained a practising Catholic ever since.
After graduating, I taught for one year in a Catholic boarding school in Sussex and then returned to Southampton University in September 1962 to study for a Certificate in Education, which I obtained the summer of 1963.
Also in 1963, on July 27th I married Caroline (née Copley). That year we set up home in Leamington Spa in Warwickshire and my first teaching post was at a grammar school in that town. We were there for five years, during which time our two sons were born: Justin (11th June 1964) and Martin (13th October 1966).


1968 to 1982: we move to Wales - a daughter, research & second degree
In 1968 we moved to Newport in South Wales, where I was Head of Classics in a comprehensive school. It was in Newport that our daughter, Rachel, was born (15th July 1970).
While teaching in Newport, I began in 1975 under the supervision of the University of Birmingham to research evidence for pre-Greek languages of the Aegean, concentrating upon evidence from Greek alphabetic sources and especially as it pertained to Crete.
In 1980 Classics had ceased to be taught at the school in Newport, so I transferred to a comprehensive school in the nearby town of Cwmbrân. By this time Caroline was teaching French in another Newport comprehensive and we remained living in Newport.
By 1982 I had completed my thesis, "Evidence for Pre-Greek Speech on Crete from Greek Alphabetic Sources", and had presented it to the University of Birmingham. As a result I received in the same year the degree of M. Litt. from the University; subsequently in 1985 the thesis was published by Hakkert of Amsterdam (ISBN 90-256-0876-0).

1983 to 1990: I retrain in computing & leave Wales after 22 years
In the early 1980s I became interested in computer programming, 'cutting my teeth' with BASIC on a Commodore 64! Also by the mid 1980s it was becoming clear that the Classics were on their way out at the school in Cwmbrân. So I decided to retrain in computer science and in 1986 enrolled on the Computer Diploma course in the Extra-Mural Department of the University of Wales College of Cardiff.
In 1988 I was awarded the Diploma with Distinction and advised to apply for the M.Sc. course for which I was accepted. Both Diploma course and the M.Sc. course had to be done part-time as I was still teaching at the comprehensive school, nominally as 'Head of Classics', but by 1990 there was no more Classics to be taught. So, having completed two years of the M.Sc. course, I had to look for another post and this led to my leaving Wales after 22 years and moving back to south-east England.

1990 till now: a third degree & I retire after 41 years
Fortunately by1990 I had completed the two years of an M.Sc. degree and there remained only a dissertation to present. I took up a lectureship in the Computing Section of the Science Department at Kingston College in the Greater London Borough of Kingston-upon-Thames.
During my first year at Kingston College, I was able to complete and present my dissertation, "Initial Investigation in Automatic Machine Translation" to the University of Wales College of Cardiff and duly received the M.Sc. degree in 1991.
Also in 1991 Caroline obtained a post as a French teacher in a Prep. School near Guildford in Surrey. We moved that same year to Leatherhead, which is about mid-way between our two places of work, and are still living there. I continued to lecture in computing (specializing in programming) at Kingston College until I retired in August 2004. Caroline, after becoming Head of the French Department at her school, retired in the summer of 2007.
We still live in Leatherhead and keep active; we are both involved with our local Catholic Church (where, among other things, I am the webmaster), the Leatherhead Residents' Association, the Leatherhead Community Association and the The Arts Society Leatherehead. I also belong to a creative writing group known as "The Moles" (see menu bar at the top of this page).


Our children and grandchildren
Our sons Justin and Martin are now married with children of their own: Justin still lives in Newport in south Wales with his wife, Muriel (née Chérasse, from the Auvergne, France); they have two sons, Ivan (b. 21st Jan. 1994) and Louis (b. 17th Sept. 1995).
Martin and his wife Anne (née Jones) now live in the next village to us; they have a daughter, Aimée (b. 1st March 2000), and two sons, Daniel (b. 27th June 2005) and Joshua (b. 25th Oct. 2007).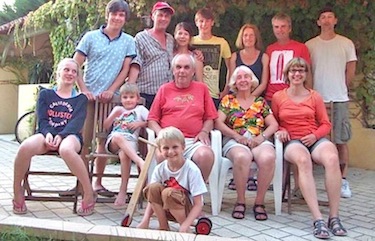 Back row: Louis, Justin, Muriel, Ivan, Anne, Martin, Ethan
Middle row: Aimee, Joshua, Me, Caroline, Rachel
Front row: Daniel
Our daughter, Rachel, after graduating from Cambridge, UK, moved to the USA to read for a doctorate at MIT and has remained in north America (mostly, but entirely, in the USA) ever since. She and her husband, Ethan, live in Somerville, MA; they have no children.
The picture on the right was taken in August 2013 in south France when the family got together to celebrate our Golden Wedding Anniversary.


Created August 2003. Last revision:
Copyright © Ray Brown